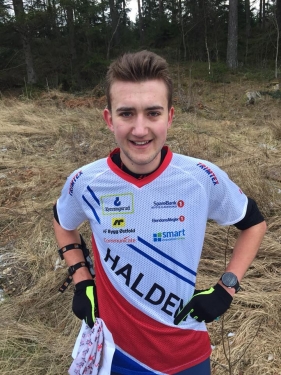 We are happy to welcome one of Britain's most promising orienteers, Alexander (Sasha) Chepelin, to Halden SK. Sasha was born 1997, raised in Aberdeen in Scotland and is going into his 1st year as a senior.

He did remarkably well in the Junior World Championships in Tampere, Finland in his last year as a junior finishing 5th, 7th and 7th (sprint, middle, long). Hopefully he will develop further as an orienteer with support from Halden SK and the training environment in the club.
Apart from running in the Halden forests, Sasha will spend some time at the local Paper Mill (Norske Skog Saugbrugs) where he has his work placement as part of his Mechanical Engineering degree's fourth year at Edinburgh University.

Below you can read a short interview with Sasha:
What made you join Halden Skiklubb? And how did you hear about the club?
I was first motivated to move by the need to find a six month work placement as part of my Mechanical Engineering degree's fourth year at Edinburgh University. I received huge recommendations from Mark P and Jo to apply at Saugbrugs based on their experiences and had further encouragement to join from friends who have either ran or visited the club.
I've not been to Halden since I was maybe 6 years old but you don't have to know much about orienteering to know it's one of the best places and clubs in the world for the sport; so when I got an internship offer there was no way I could refuse!
What are your first impressions of the club and the city?
I've not had much of a chance to explore the town yet, although I've already sampled the famous kebab pizza (recommended by Mr.Carcas and some of the guys). As for the club, it's a very nice and welcoming environment, with plenty of really high quality training as well as support and encouragement. It almost feels like I've settled in even though it's barely been a week since I moved here.
What will be your highlights of the 2018 season?
It's tough to say for a first year senior - I had good shape before Christmas and was aiming high, but then I overdid things and am only just beginning to train again. It will take some time to settle here in many ways but hopefully I can still give the GBR selections a good try. Running in the nearby World Cup later on in the year would certainly be memorable!
What's for sure is that the big relays will be highlights, no matter what shape I'm in, because they always are. And this year I'm looking forward to represent another team and [hopefully] be able to get the legs and brain working again by then.
Final 5 questions:
Favorite workout?
In running, I really enjoy long tempo sessions like 4 x 10min; they're very rewarding both physically and mentally. In orienteering, 1st leg relay simulations are always good fun.
Night- or day orienteering?
Day, but maybe that can change soon.
Tights or nylon?
Tights until it's too hot in summer.
Cycling or skiing?
Skiing when possible, I haven't been for a few years but hope to get out before Spring at some point.
Other hobbies?
I'm quite lazy outside training and enjoy crashing out on the sofa, but I'm trying to get a bit into photography and the ukulele recently.
---